If you are considering a bathroom remodel you've probably heard a lot about frameless shower enclosures but might not be sure what benefits they offer.
Frameless shower enclosures are extremely durable and made of 3/8″ heavy glass.  They are secured with inconspicuous hardware at the top and bottom of the door.    This gives the doors an almost invisible appearance making your bathroom and shower space seem much larger.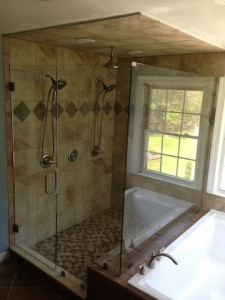 Many clients choose to add decorative tile or marble in their shower which can be seen through the shower doors adding another element of luxury to the space.
The framless doors are also easier to clean as soap scum and mold can't get trapped in the metal framing ensuring they will stay beautiful for years to come.
Click to see more examples of our frameless shower enclosures or to contact us to get your project started.