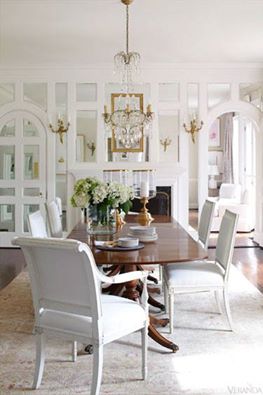 Replacing a standard bathroom mirror with an upgraded or custom version is an easy way to add elegance and character to the room.
For a truly custom look, think beyond the bathroom and incorporate mirrors in other spots throughout your home.  Decorators use mirrors and custom glass to accent a home's beauty, create a dramatic effect, reflect light or make a small space feel larger.
Don't be afraid to go big.
The custom wall to wall mirrors in this dining room are accented by wood panels and molding to create an elegant, light filled space.
Take it outside.
You can even use mirrors outside to accent architectural details or create visual interest in the garden.
If you can dream it we can create it.
Richmond Shower Doors and More can custom cut glass and mirrors to meet your specific design requirements in any pattern or shape.
We offer a wide variety of clear, textured or patterned glass and frames in dozens of colors and finishes to create a look that works with your home's style.
Contact us or visit our Custom Glass and Mirrors page to find out more.