Closet Organizers
Shoes on the floor, clothes in disarray, and tangled accessories make getting ready to go somewhere stressful. Richmond Shower Doors & More offers a variety of storage systems to customize and maximize your space, resolving both aesthetic and organizational issues. Whether you're seeking a luxury solution or working within a tight budget, there is a closet system that will work for you.
We offer three lines of storage systems made by a name you can trust: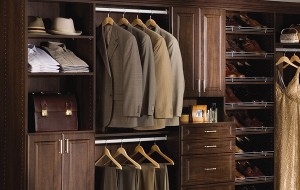 • The Rubbermaid Melamine Grade Heirloom Collection embodies luxury with finely detailed, raised panel doors and drawers in several stylish wood finishes. Whether hidden in your closed on viewable from the main part of your home, this closet system will add value to any room.
• The Rubbermaid Custom Wire Ultra Freeslide features ventilated shelving allowing hangers to glide easily from one end of the closet to the other. This system is perfect for every closet in your home and is the most affordable customized organization system.
Richmond Shower Doors and More can also provide organization solutions for your garage or other areas in your home.