Shower Enclosures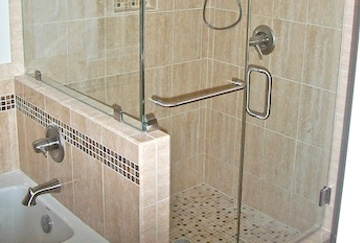 With such a wide selection of shower enclosure door styles, glass types, and panel configurations, selecting which will fit your bathroom décor and shower space can be more challenging than you might expect. Our experts will help you choose which type of shower door or enclosure is right for you.
Selecting from brands including Alumax and Cardinal ensures that you receive the ideal level of customization to match the design of your home and your own unique needs.
Frameless Shower Enclosures
Made entirely from 3/8" or 1/2" glass, frameless shower enclosures are the ideal choice for those seeking clean, elegant lines and luxurious style. Frameless enclosures will enhance a bathroom with a modern look while also emphasizing color, tile, or marble in the interior design. Customers can choose from a variety of glass, handle, and hardware options to complete the desired effect.
Semi-Frameless Shower Enclosures
Semi-frameless shower enclosures use a minimal amount of framing on the shower door. This option maintains a high-end style and adds elegance to any bathroom. Semi-frameless enclosures give an airy, open feeling to your shower, and are available at a variety of price points.
Framed Shower Enclosures
Framed shower enclosures feature aluminum framing on all sides of the door, including the top and the bottom. This is the most budget-friendly and common option for shower enclosures. While this is the most affordable option, you may still choose from a variety of finishes and glass types to customize the look and feel of your shower.
Want to see more? View our gallery of shower enclosures.