Here at Richmond Shower Doors & More, we specialize in using custom mirrors and shower enclosures that add stylish statements in your bathroom. There are some other shower and design trends, however, that are especially appealing to those seeking a modern, trendy look.
Heat-Activated Tiles
Whether using heat-activated tiles in your shower or as an accent on your floor or countertop, this new trend adds a sci-fi look to your home. Those who opt for tiling their showers in temperature sensitive glass will see various hues of neon as hot water hits the shower walls. Going beyond the changing colors, there are even some companies that sell tiles that transform into famous works of art when mixed with the heat of the shower.
Patterned and Textured Tiles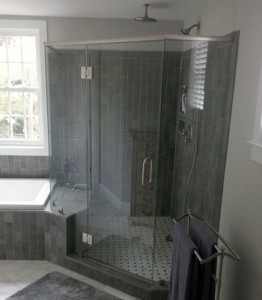 Patterned and textured tiles are also a major trend in bathroom design and remodeling this year. While they don't demand the same attention as heat-activated tiles, patterns and textures do add a bold and modern style to bathrooms. Some opt for wood-styled tile to get the same look as a natural wood finish but with the benefit of having a low-maintenance, water-safe surface. Others choose a subtle texture or pattern as a way to add color and interest without needing to repaint or redo wallpaper in the future.
Showcase Your Tiles with Frameless Shower Enclosures
If you are one of those people who loves staying on top of the latest design trends, there is no better way to showcase your style with frameless of semi-framed shower enclosures. Don't hide beautiful tile behind a shower curtain. Frameless doors not only allow you to show off your tile but also make the room look bigger and add a sense of elegance to the room.