When planning a bathroom remodel many people are amazed at the countless ways to incorporate frameless shower enclosures and how they can be customized to reflect the homeowner's needs and personal style.
If you are looking for innovative ideas to plan your bathroom remodel, these photos from Better Homes & Gardens will surely provide some inspiration.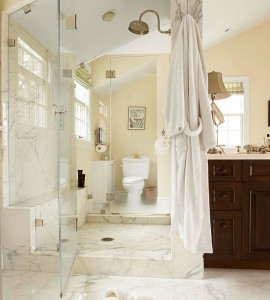 This bath was designed with frameless shower doors on both sides and can be accessed from multiple points in the bath. Other features include marble surfaces and a built-in bench. A solid wall next to the vanity offers privacy.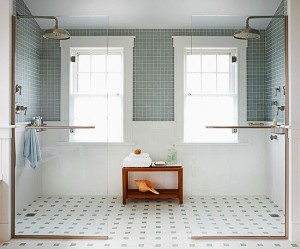 A double walk-in shower offers plenty of room and makes this 5×10-foot space look even larger. The clear glass panels keep the look open and airy and allow light from the windows to reach the rest of the bath. The windows were installed with waterproof frames protect them moisture.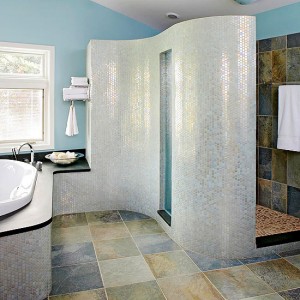 This unique curved wall on one side of this shower is covered in shimmering glass tiles and features a glass panel in the center to let in light. The shower features a walk-in, extra-wide entrance, bench, and handheld shower head.
See the Richmond Shower Doors & More gallery for even more ideas, or contact us to schedule a visit to our design showroom.